Well That Was Fun!
2021 Texas District Gathering is in the Books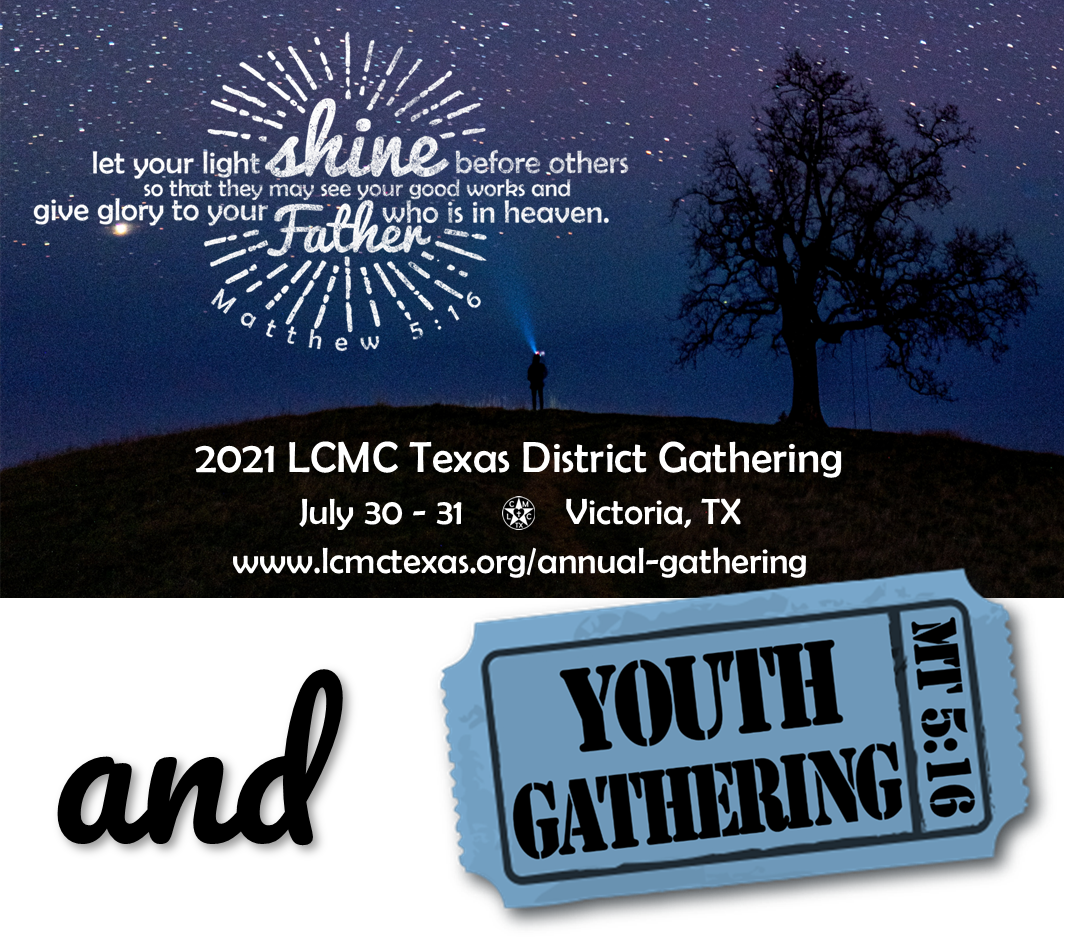 Dave Drum
Tucson, Arizona
Pastor Dave Drum has dedicated his adult life to pursuing the cause of Christ in his hometown of Tucson, Arizona. He served as pastor of Community of Hope Lutheran Church in Tucson from 1990-2011 and as the Church Domain Director of 4Tucson from 2011-2018. Dave currently serves as the Director of
J17 Ministries
which he founded in 2018. The mission of J17 is to unite the body of Christ for a divided world. Jesus demonstrated the primary importance of this in his prayer in John 17. Dave believes that our key to discovering who Jesus really was and how much God loves us is our humble, visible, border-less love for one another.
In his keynote "Shining Like Jesus Prayed We Would," Dave helped us to understand that Jesus didn't just say that his followers ought to be salt and light for the world, he said that we are. But how do we flavor the world toward greater unity and maturity? Dave unpacked our biblical mandate and shared practical examples of how we can faithfully respond as individuals and congregations.

Ted Doering
Round Rock, Texas
Pastor Ted Doering is a native of Kingwood, Texas and a graduate of Concordia University Texas in Austin and Concordia Seminary in St. Louis, Missouri. While in college, Ted met his bride-to-be, Chelsey, who he married in June 2010. Upon graduating seminary, Ted was called by Faith Lutheran in Georgetown, Texas to plant a new congregation in Williamson County. In 2015 the Doerings launched
Narrative Church
which met in Hopewell Middle School in Round Rock until March 2020. With Covid-19 restrictions, Narrative was forced to become nomadic and has met online, in homes, at a community center, and most frequently in a beer garden at a brewery in Georgetown! Narrative has experienced consistent growth and has been particularly successful at reaching unchurched and dechurched millennials.
In his keynote entitled "Shine Where You Are," Ted discussed our societal obsession with fame and fortune and how it has even infected our understanding of what it means to be a follower of Jesus. All too often we fool ourselves into thinking that we don't shine bright enough or in the right hue. But, the calling of the Christian life is not about our light but about Jesus' – the light of the world! God has us right where he wants us… to shine the light of Jesus in our daily life to those around us.

Rick & Robyn Bezanson
Glendale, Arizona
Pastors Rick & Robyn Bezanson hail from
Amazing Grace Christian Church
in Glendale, Arizona where Rick has served as Senior Pastor since 2003 and Robyn has served as Associate Pastor since 2012. The Bezansons share a passion to reach the outcast and disenfranchised in their community. During Rick's tenure, church worship attendance in their building has grown from just 6 to over 150 today in three services in two languages. In addition, the Bezansons have been instrumental in planting 17 jail churches in the Maricopa County jail system. In 2014, God gave Robyn a vision for a Christian-based halfway house for women leaving incarceration. This came to fruition in January of 2020 with the opening of
House of Grace
. This house provides a year-long program for five women who participate in bible studies, recovery meetings, and life skills training.
In their keynote entitled "Hide it Under a Bushel? No!" Rick and Robyn shared their ever-changing adventure of following Jesus by reaching out with the Gospel in an urban, multicultural, multi-class context. They talked about the heartaches and tremendous joy they have experienced in reaching out rather than focusing inward at Amazing Grace. Their hope is that all may see the untold blessing and treasure to be discovered in ministry outside the walls of the church building.
Rick holds Doctoral and Masters degrees from Fuller Theological Seminary, a Bachelors degree in History from the University of San Diego, and completed his Lutheran studies at Pacific Lutheran Theological Seminary. He has authored two books:
Go to Jail: A Call to Christians – How to Plant Jail Churches
and
An Audience with the King
. Robyn is a second career pastor with a background in finance. She completed ministry training through Beyond the River Academy. Rick and Robyn are proud parents of two adult sons and grandparents of 4 treasured grandchildren.

Bryce Formwalt
Georgetown, Texas
Pastor Bryce Formwalt is the Director of Mission Growth for
LCMC Texas District
and Program Director of
Harvest Workers
, an online ministry training program. A Native of northeast Iowa, Bryce is a graduate of Wartburg College in Waverly, Iowa and the Lutheran Theological Seminary at Gettysburg, Pennsylvania. Since graduating seminary, he has served congregations in Ohio, Illinois, and North Dakota. His diverse experiences include ministry in urban, suburban, small town, and rural settings. He has also served in a variety of different roles: associate pastor on a large staff, lead pastor of a medium-size congregation, solo pastor, and church planter. Since 2015, Bryce has served the Texas District and is available to assist and coach pastors and congregations in mission and revitalization. He resides in Georgetown with Lisa, his wife of 23 years, and teenage sons, Cole and Simeon.

Enrique Estrada
Pastor Enrique Estrada was born and raised in Mexico, the son of a Lutheran pastor. He has taken an active role in church leadership since he was just fifteen years old. Enrique attended Wartburg Seminary through their extension program in Austin, Texas. He was ordained in 1985 and has committed his life to Christ and his church his whole life. In 1991, he founded
Mission Mexico International
with a vision to reach the people of Mexico with the Gospel of Jesus Christ from a Lutheran theological perspective. Enrique's work has centered around Monterrey where he currently serves as the pastor of two congregations: Spirit of Joy and Spirit of Faith.

Shine Youth Gathering!
We are excited to host our third annual YOUTH GATHERING for ALL STUDENTS grades 6-12! Students were encouraged to grow in their faith through learning from inspiring presenters and doing ministry with others their own age from across the state! Along the way, they'll meet lots of new friends, have fun, eat some great food, and be encouraged to live faithfully in their everyday lives.
Pre-Gathering Leadership Seminar
Our Pre-Gathering Leadership Seminar took place from 1:00 to 4:30 pm on Friday. Keynote speakers Rick Bezanson and Dave Drum shared practical leadership insight to help leaders take steps to lead their ministries to more faithfully shine the light of Jesus in community, especially in the dark places.
In the opening sessions, Rick shared from his experience the ministry lessons learned in years of urban, multicultural, multi-class ministry. How does an Anglo congregation start a Latino ministry? How do you learn to minister in another language and to a very different culture? Rick spoke honestly about the many challenges and tremendous blessings of these ministries.
In the second part of the Leadership Seminar, Dave presented on how to transition our thinking from being "The Pastor of a church" to being "a pastor of The Church." Most seminaries have not traditionally prepared pastors to lead congregations as one part of the community-wide body of Christ. Dave shared a grander vision for ministry to shine Jesus' light far beyond the walls of our church building and offered practical guidance to help leaders lead ministries to experience the tremendous freedom and blessing of being a bigger part of God's kingdom-building activity in the community.
Pre-Gathering Women's Seminar
All women were invited to attend the Pre-Gathering Women's Seminar on Friday from 1:00 to 4:30 p.m. Ada Smerek from
Trinity Lutheran Church
in Stonewall, Texas served as emcee and hostess for the afternoon sessions which featured presentations from Linda Klaassen of Medina, Texas and Robyn Bezanson from Glendale, Arizona.
In the opening session, Ada led the group in a conversation regarding the various ministries women are engaging in through their local congregations. Linda then presented a bible study of Hebrews entitled "Surviving to Thriving through Crisis."
In the second part of the Women's Seminar, keynote speaker Robyn Bezanson shared her experience of cross-cultural ministry to women over the past two decades. She told her story of how the Lord led her first into jail ministry, then ordained ministry, and eventually the establishment of
House of Grace
, a halfway house for women coming out of incarceration. She shared her joys and heartaches in this ministry and inspired and encouraged all who attended to boldly minister as the Lord leads.
Friday Night BBQ Chicken Dinner – Optional Benefit Meal
The BBQ Crew from Our Saviour's, Victoria prepared a BBQ Chicken Dinner as an option on Friday night. Proceeds from the BBQ Chicken Dinner will go to benefit the
Liberty School in Kitale, Kenya
.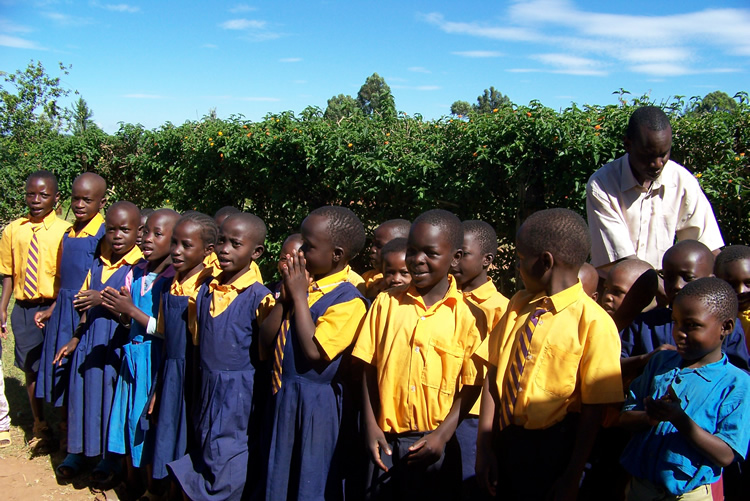 one
Shining Through Political Darkness
Dave Drum
Tucson, AZ
Do you ever dread a family gathering because you just know Uncle so and so is going to say something political and put everyone on edge? How did our world get so politically divided? And how can we represent Jesus well in the midst of the polarizing partisanship? Join Dave Drum, author of
Peace Talks: The Good News of Jesus in a Donkey – Elephant War
to discover how to best represent Jesus in the midst of the discord. Offered Sessions 1 & 2.
two
Preparing for the Harvest
Bryce Formwalt
Georgetown, TX
In Matthew 9 and Luke 10, Jesus promises an abundant harvest, but he also reminds us that the workers are few. In this talk, we will discover some ways congregations and leaders can be preparing for the harvest that God desires in our communities and beyond. We will also learn about Harvest Workers, a new online ministry training program to equip future ministry leaders to evangelize the lost, disciple the found, and to raise up new leaders to make and multiply disciples. Offered Sessions 1 & 2.
three
Light of Christ Shining
in Southeast Asia
Lutheran Asian Ministries (LAM) serves five nations in Southeast Asia (Vietnam, Myanmar, Thailand, Cambodia and Laos) with a mission to train and equip indigenous leaders and pastors to evangelize their communities in sustainable ways. The percentage of Christians in Southeast Asia populations is below 2%! So the harvest is plentiful! In this breakout, former LCMC Service Coordinator Mark Vander Tuig will help you better understand the culture and context of Southeast Asia, how LAM is working to strengthen the church there, and how you can get involved. Offered Sessions 1 & 2.
four
Six Critical Insurance Risks
Every Ministry Faces
Colton Johnson
Hutto, TX
Churches, Christian schools, and ministries are faced with an ever-changing and increasingly complicated legal environment and social landscape. The Coronavirus Pandemic has presented churches and ministries with the challenging obstacle of adapting and evolving their ministry to their communities and has caused many to wonder about how they can navigate this ever-changing landscape. With this workshop, we will navigate through and unpack the most critical risks every ministry faces and how every ministry leader can properly respond. Offered Sessions 1 & 2.
five
Construction at Your Church
Caleb Williams
McDade, TX
New Hope is currently building a new sanctuary and fellowship hall to support their growing ministries. Join Pastor Caleb Williams as he shares the "dos and don'ts" of construction that they have learned through this building process as a nonprofit. Topics will include how to raise money and to leverage your non-profit status to lower construction costs. Offered Session 2.
six
Shining Across Generations
Ted Doering
Round Rock, TX
How often do we blame things on other generations? It runs around non-stop in our news, on social media, and in conversations. But, doesn't God call us to commend his works to all generations (hint it is in a Psalm)? Join Ted Doering, co-author of
Myth of the Millennial: Connecting Generations in the Church
, as he breaks down generational differences (spoiler alert: the millennials probably aren't who you think they are), encourages you with hope in the midst of generational strife, and gives you some everyday steps to connect across generational divides. Offered Sessions 1 & 3.
seven
Being a Safe Place
Being a Safe Place for the Dangerous Kind
is essential for developing healthy disciples and leaders in the church and equipping God's people for lives of effective witness in today's world. Join LCMC Service Coordinator Mike Bradley as he offers fresh insight for ministry leaders seeking to lead from a place of health and authenticity that will have a powerful impact both within the church and in leading its mission to the community. Offered Sessions 1 & 3.
eight
Reaching Spanish Speakers
for Christ
Yael Mendez
Laredo, TX
Spanish is widely spoken by almost half a billion souls. Intentional mission to share the Gospel is not only possible, it's our mandate! Jesus commands his followers to make disciples of all nations which includes serving the nations within our local communities. Come and learn how you and your congregation can reach Spanish speakers for Christ. Offered Sessions 1 & 3.
nine
Light in Our Darkness
We don't have to look very far (no further than a mirror, in fact) to know that there is darkness in our world and in our hearts. What does it mean for Christians to shine Christ's light when our lights are not as bright as we would like them to be? Join LCMC Coordinator for Districts and Fellowships Julie Smith as she draws upon the promises of baptism in thinking together about ways we reflect the light that Jesus shines upon us. Offered Sessions 1 & 3.
ten
Church Planting in San Antionio
Join Chuck and Azeneth Knudson as they share about their journey and struggles of planting HeBrews 10:24 Community Church in the Dellview neighborhood of San Antonio. Find out where God is leading the mission next and how you can help support it. Hint: Do you like delicious, fresh-roasted coffee? Offered Sessions 1 & 3.
eleven
A Journey in the Spirit
Rick & Robyn Bezanson
Glendale, AZ
The Holy Spirit is available to all believers to direct our days and deeds according to God's will. Join Pastors Rick and Robyn Bezanson as they share how the Holy Spirit has guided their journey in their 17 years of ministry at Amazing Grace in Glendale, Arizona. The Spirit has used them to begin new ministries to reach lost, hurting, and helpless people of their community and led them to build Christ's church in the city. Offered Sessions 2 & 3.
twelve
Sent on a Mission to Waco
Romans 10:15 says "How can they preach unless they are sent?" Come hear from bivocational missionaries Chris & Kelli Meyer about how God is sending their family to proclaim the good news of Jesus Christ by living on mission in Waco and how you can partner with them in support of the Waco Mission. They will share where they are on the journey now and where God is leading their ministry in the future. Offered Sessions 2 & 3.
thirteen
Money. Gotta Have It? You Betcha!
Jerry Kieschnick
Austin, TX
Zig Ziglar said: "Money isn't the most important thing in life, but it's reasonably close to oxygen on the 'gotta have it' scale." That's true of people. It's also true of charitable organizations. How does your congregation or organization replace generous contributions lost when significant donors pass away? What level of generosity can come from retirees on a fixed income? How can millennials be motivated to support your mission? Join Dr. Kieschnick, former Synodical President of Lutheran Church-Missouri Synod and current CEO of Legacy Deo, for an overview of special current and planned giving strategies that make giving more appealing for your donors and beneficial for your mission and ministry. Offered Sessions 2 & 3.
fourteen
A Christian Perspective
on Human Trafficking
It is doubtful that anyone is FOR human trafficking other than those who profit from it. So what is there to talk about? Join Lutherans for Life Executive Director Scott Licht as he leads a conversation on what is at stake, who is involved, who is vulnerable, and what followers of Jesus can do to help – all from a biblical perspective. Offered Sessions 2 & 3.
fifteen
The Jesus Festival:
Gospel of Mark in Song
Percy and Ada Smerek
Stonewall, TX
Join Percy and Ada Smerek for a musical presentation of the Gospel of Mark. The Smereks personally composed this musical rendition as a unique method to share the Gospel in song. The performance is approximately 40 minutes, so be on time to experience the entire musical and bring your Bible to follow along. Offered Sessions 2 & 3.
Contact Bryce Formwalt at 512.942.7776.