resources
Missional Accountability Groups
A guide for pastors, church workers, and every follower of Jesus
CLICK IMAGE TO DOWNLOAD PDF:
Recommended Reading
Mission and Ministry Must-Haves
The following is a recommended reading list to help advance the Kingdom of God through the ministry of local congregations. Topics will vary and new resources will be added to this list in the future, so check back often. Also, most resources will be linked to where they can be purchased on Amazon.com. By following the link directly from this page before making your purchase, you will be helping to financially support LCMC Texas. Thank you for your support!
Got a resource to recommend?
Suggest resources you recommend using the
Contact Us
form. Thanks!
Discipleship, Evangelism, and Everyday Mission: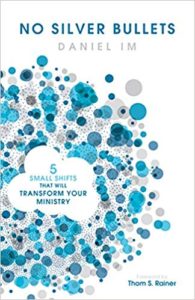 What if I told you that you were only one step away from unlocking new levels of maturity and growth in your church?
The myth of the silver bullet still exists because we desperately want it to. We all prefer quick fixes and bandage solutions to the long, hard, slow work that produces real change. So the moment we learn about a new ministry or strategy and see its effect in another church, we run to implement it in our own. Unfortunately, this impulse is usually met by opposition, skepticism, and ultimately, rejection.
What if the solution isn't a new model or a complicated strategy, but a shift in perspective? What if you could keep your church's current vision, values, and model, and simply make a few micro-shifts…leading to macro-changes?
This book explores five micro-shifts that have the potential to produce macro-changes in your church. As you read, you will discover how to integrate these micro-shifts into the life of your church, starting with the way you disciple. You will finish by developing a plan to structure, communicate, and evaluate these changes to ensure that they take root and pave the way for lasting change and kingdom impact.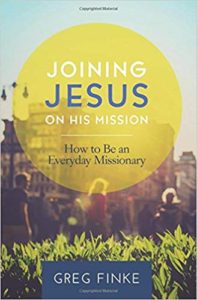 Joining Jesus on His Mission
will alter the way you see your life as a follower of Jesus and take you beyond living your life for Jesus to living life with Jesus. Simple, powerful and applicable insights show you how to be on mission and recognize where Jesus is already at work in your neighborhoods, workplaces and schools. You will feel both relief and hope. You may even hear yourself say, "I can do this!" as you start responding to the everyday opportunities Jesus is placing in your path.
Greg and Susan Finke founded Dwelling 1:14 to help Jesus-followers connect in their neighborhoods, workplaces and schools for discipling and missional living. They offer coaching, consulting and training experiences for congregations and their leaders in discipling, living missionally and multiplying missional communities. Greg and Susan enjoy life as neighborhood missionaries in League City, Texas.
www.dwelling114.org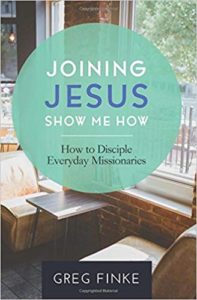 The way Jesus disciples people is simple and results in unschooled, ordinary followers participating in the mission of the Father and discipling others to do the same. This book will help you regain the clarity and simplicity of how Jesus disciples people in the gospels so that you can disciple your children, friends, neighbors or fellow church members to get up, follow Jesus and join him on his mission, too.
Greg and Susan Finke founded Dwelling 1:14 to help Jesus-followers connect in their neighborhoods, workplaces and schools for discipling and missional living. They offer coaching, consulting and training experiences for congregations and their leaders in discipling, living missionally and multiplying missional communities. Greg and Susan enjoy life as neighborhood missionaries in League City, Texas.
www.dwelling114.org
by Ted and Chelsey Doering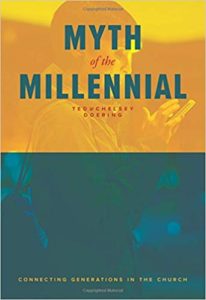 In Myth of the Millennial, authors Rev. Ted and Chelsey Doering, Millennials themselves, invite churches to stop hitting the panic button and trying anything and everything to get Millennials to stay in or come back to church. Because connecting with the Millennial generation – their generation, their peers – is simpler than it seems. And don't worry, they won't prescribe expensive building renovations or a new wardrobe for your pastor.
They do, however, explore common millennial stereotypes in the hopes of helping other generations better understand this lost generation. They also offer ideas on how to build strong intergenerational relationships to better equip Boomers and Gen-Xers to engage a generation that is generally apathetic and disinterested in the Church. Because, ultimately, all this talk about Millennials and generations is not about upping church attendance for the sake of numbers; it s about one generation leading another to Christ.
Ted and Chelsey Doering are church planters who live just north of the Millennial mecca that is Austin, Texas. They enjoy cooking (Chelsey), barbequing (Ted), working on house projects, and laughing at the antics of their dog, Gus. Learn more about their ministry at
narrative.church
.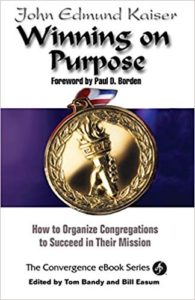 Do you really want the mission to succeed?
Are you prepared to live within clear boundaries?
Are you ready to align yourself with a greater purpose?
Do you have what it takes?
Winning on Purpose offers leaders a way to organize congregations for success by creating structures that enable church life and health. As a comprehensive and powerful application of the biblical call to mission, Winning on Purpose sets forth the Accountable Leadership strategy. This model of leadership brings together standards for mission, boundaries, and accountability, and then shows how these standards come to life through the performance of four key players: the board, the pastor, the staff, and the congregation.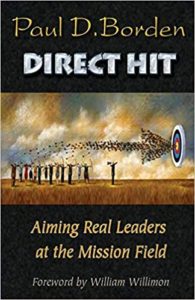 Many congregations are declining due to an inward focus, and see their pastor as someone who should only minister to their needs. But pastors must anticipate a better future. Direct Hit offers hope to leaders of congregations that have lost their outward focus. By preparing for and leading systemic change, pastors can bring new life into the culture of a congregation, guiding it to answer God's call to reach people with the good news.
Direct Hit offers practical explanations for how to:
Develop a vision and communicate a strategy for its implementation
Motivate a congregation to embrace the vision
Develop resources, ideas, and personnel to prepare for change
Embrace and implement change
Embed a new DNA into the life of a congregation
Systemic change occurs as a result of hard work, but the gain far outweighs the pain. Once change has occurred, a whole new world of opportunity opens up—a world in which you are privileged to equip, lead, and oversee a congregation that has joined God's mission. Ready. Aim. Go for it!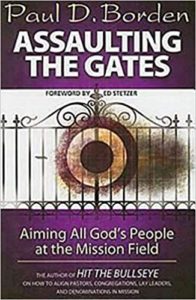 Learn the "Big Picture" approach that will aim your congregation at the mission field in your back yard, or around the world. Many churches want to make the transition from an inward to an outward focus, from catering to the needs of members to reaching out into the world to make disciples of Jesus Christ. Too often they try to accomplish this radical change by taking half steps and partial measures, initiating a new program here or adding a new staff members there.
Yet this kind of change requires more. To succeed in changing its core focus this way, a congregation must learn strategic thinking; it must commit itself to seeing the big picture, and to taking the steps necessary to paint that picture afresh. Everyone, including pastors, lay leaders, key teams and groups, and the congregation as a whole must be involved in a process of transformation. Paul D. Borden, author of Hit the Bullseye and Direct Hit, knows that this transformation will not be easy. But if the target is bringing more people into saving relationship with Jesus Christ, what could be more worthwhile?
by Alan Roxburgh and Fred Romanuk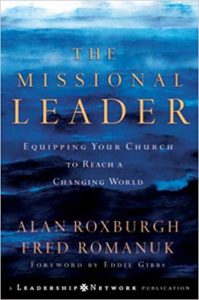 In The Missional Leader, consultants Alan Roxburgh and Fred Romanuk give church and denominational leaders, pastors, and clergy a clear model for leading the change necessary to create and foster a missional church focused outward to spread the message of the Gospel into the surrounding community. The Missional Leader emphasizes principles rather than institutional forms, shows readers how to move away from "church as usual," and demonstrates what capacities, environments, and mindsets are required to lead a missional church.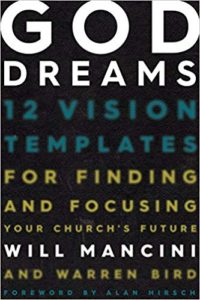 Is your team excited about the next big dream for your church? You are a visionary leader and your church probably has a vision statement. Yet most churches are stuck in a trap of generic communication without a truly visionary plan. Just like a visionary restaurant needs a more specific focus than "serving food," a visionary church needs something more than biblical generalizations like "loving God, loving people" or "making disciples and serving the world."
When a team doesn't share an understanding of God's next big dream, leadership grows tired, overworked by an "all things to all people" ministry approach. Too often there's no unified picture of what success looks like. People can feel uninspired and your church's programming can seem more optional than ever. Ministry without clarity is insanity.
Are you ready for a better way? In this groundbreaking work, based on Will Mancini's 15 years and over 10,000 hours of church team facilitation, God Dreams reveals a simple and powerful planning method that will bring energy and focus to your church like never before. First, God Dreams shows how to reclaim the role of long-range vision today by providing 12 vision templates, each with biblical, historical and contemporary illustrations. These vision starters will dramatically accelerate your team's ability to find complete agreement regarding your church's future. Second, God Dreams explains how to overcome the fruitless planning efforts that many church teams experience. With a tool called the Horizon Storyline, leaders can connect short-term action steps with the long-range dream, while leveraging the power of storytelling to make the plan "stick." This tool will galvanize a diverse team of ministry leaders and volunteers with unprecedented enthusiasm.
Imagine leading with a refreshed sense of freedom and confidence, with a totally new way to inspire your church. Imagine the ability to harness the energy and resources of your people towards a specific dream of gospel impact, in your church and in your lifetime. God Dreams is your passport to leading into a better future.
Church Planting & Multiplication: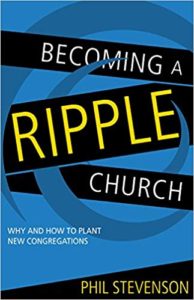 Multiply Your Ministry by Parenting New Churches!
Most pastors and church leaders know that a healthy church should eventually become a multiplying church. But how do you know when the time is right to parent a new church? And how do you know which of the many available strategies is right for your church? In Becoming a Ripple Church: Why and How to Plant New Congregations, Phil Stevenson walks the pastor and church leader step-by-step through the process of parenting a new church—from deciding when is the right time to understanding the models and hurdles of church parenting to developing a team of people to parent a new church.
Stevenson gives pastors and church leaders the inspiration and strategic know-how to multiply their church's effectiveness, as well as the nuts and bolts to get the job done.
by Ed Stetzer and Daniel Im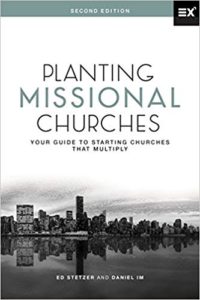 Is God calling you to plant a church? What does that even mean? How do you decide what type of church to plant? Where do you start? What systems do you develop? How do you recruit a team to help you? And how do you make sure that your church plant grows and multiplies? This is what Planting Missional Churches is all about. Use this book as a guide to lay a missional foundation, choose the right model, develop the appropriate systems, and build the needed ministry areas, so that you can ultimately multiply over and over again.
Planting a church is one of the most exciting adventures you'll ever embark on. It's also one of the hardest. It requires initiative, leadership, strategy, systems, and a lot of prayer. In this second edition of Planting Missional Churches, not only will you find a completely redesigned book with new content in every single chapter, but you will also find several new chapters on topics such as church multiplication, residencies, multi-ethnic ministry, multisite, denominations and networks, and spiritual leadership. So if you're planting a church, be prepared. Use this book as a guide to build the needed ministry areas so that you can multiply over and over again. For additional resources visit
www.newchurches.com/PMC
.
Ed Stetzer holds the Billy Graham Chair of Church, Mission, and Evangelism at Wheaton College and serves as Executive Director of the Billy Graham Center. He has planted, revitalized, and pastored churches, trained pastors and church planters on six continents, holds two masters degrees and two doctorates, and has written dozens of articles and books. Previously, he served as Executive Director of LifeWay Research.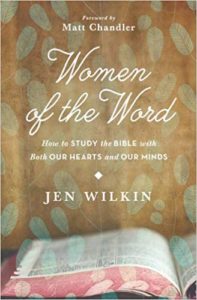 We all know it's important to study God's Word.
But sometimes it's hard to know where to start. What's more, a lack of time, emotionally driven approaches, and past frustrations can erode our resolve to keep growing in our knowledge of Scripture. How can we, as Christian women, keep our focus and sustain our passion when reading the Bible?
Offering a clear and concise plan to help women go deeper in their study of Scripture, this book will equip you to engage God's Word in a way that trains your mind and transforms your heart.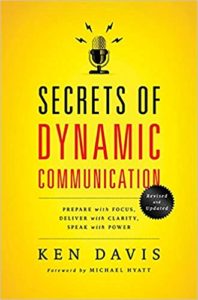 What is the most important ingredient for an effective speech or presentation?
Whether you are one who speaks only on rare occasions or you find yourself addressing an audience every day, this book will be an invaluable tool. Beneficial to the experienced pro as well as the new beginner,Secrets of Dynamic Communication is a practical and effective handbook for powerful presentations of all kinds. It takes the reader through the process of selecting and developing a theme, giving it focus, fleshing it out, and communicating well with the audience. The first half is devoted to preparation, the second to delivery.
Author Ken Davis is frequently hired by individuals and companies around the world to bring his humor and expertise to others in the speaking field, and he is now bringing those concepts to the wider community as well. No abstract theories here, only step-by-step help in preparing and delivering speeches that get results! You'll soon develop the dynamic speaking skills associated with the very best in the field.
Need a supply preacher?
Recommended Compensation
Available Preachers:
*Lee Eschberger, Paige, 512-253-0246
[updated: April 28, 2023]
Want to add your name to the list? Need to update your info?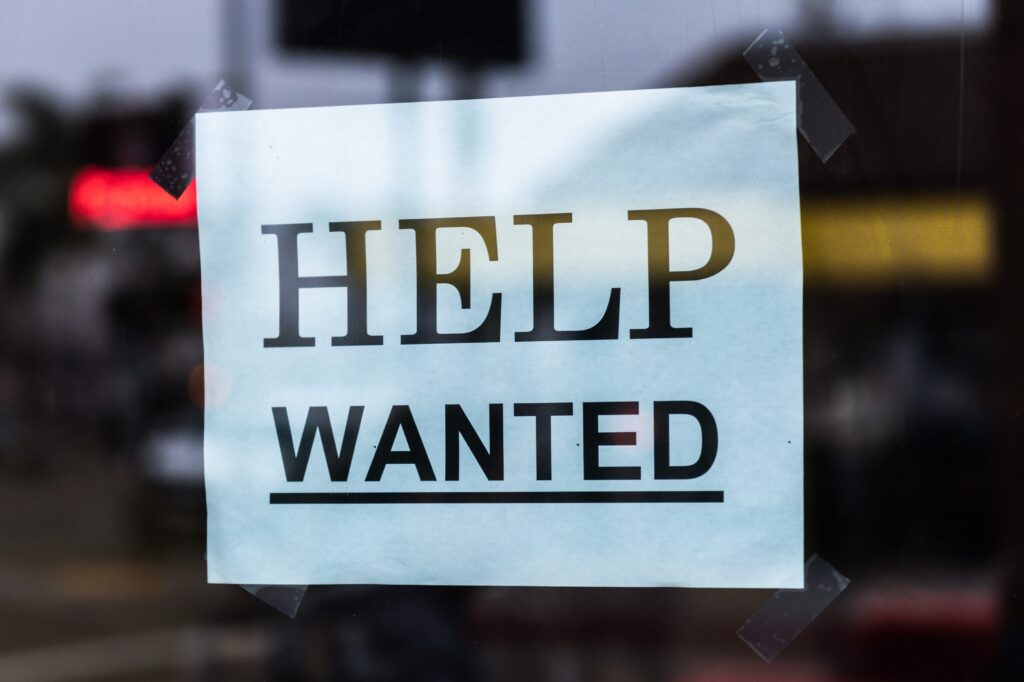 Training Up Next Gen Leaders
Seminary Scholarship Opportunities
The following
congregations either have scholarship funds or would consider supporting a LCMC seminary student to help defray the cost of tuition as they pursue theological education for ministry. Please contact each congregation directly in regards to their specific funds availability and determination processes:
If your congregation has a seminary scholarship fund or would be willing to finan
cial support a seminary student, please
Contact Us!
[updated: November 11, 2021]