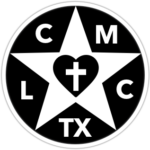 Events

2023 Annual Gathering
We come together for great food and fellowship with brothers and sisters in Christ to learn about ministry opportunities, receive powerful teaching, and worship the Most Awesome God!
Ticket Prices:
Adults – $75 | Youth – $40
This Gathering is for ALL PEOPLE! All are welcome!

Gathering Schedules listed below

Youth Gathering and Lock-in (grades 6-12) happening simultaneously

Optional Pre-Gathering Seminar featuring Tilaye Daba

Optional Roast Beef Dinner Friday Night to Benefit the St. Paul's children's ministry programs

Keynote Presentations by Tilaye Daba

3 Breakout Sessions with 15 different breakouts to choose from
Keynote Presenter: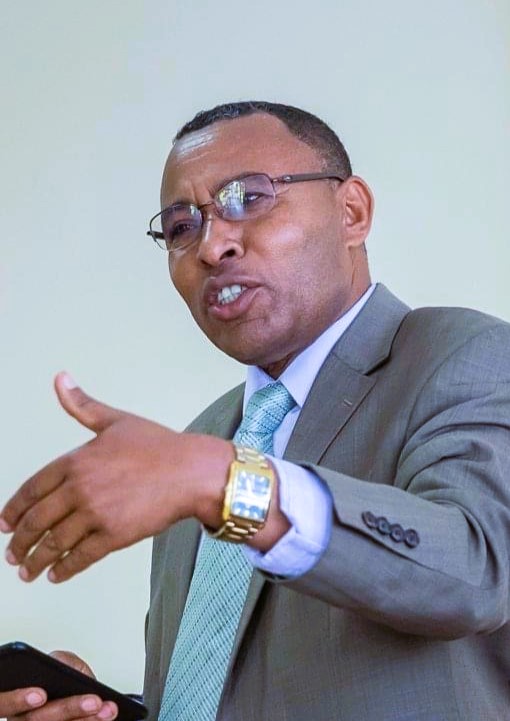 Tilaye Daba
Lutheran Church Makane Yesus – Ethiopia
Tilaye Daba is an ordained pastor in the Ethiopian Evangelical Church Mekane Yesus ("Place of Jesus"), the largest Lutheran church body in the world with 11 million baptized members. He currently lives in Addis Ababa, the capital city of Ethiopia.. With over 28 years of ministry experience in one of the fastest growing churches in the world, Tilaye has dedicated himself to expanding the Kingdom of God globally and locally, raising faithful and effective servant-leaders for the church and society in Ethiopia and beyond.

Tilaye is a graduate from Mekane Yesus Seminary and the Ethopian Graduate School of Theology. Currently he is the Director of the Global Mission Society and works part-time as the International Training Coordinator for Word of Life, UK. Tilaye has previously served in the Church in different capacities: Evangelism and Mission Director, Youth and Children Ministry Coordinator, Dean of Theology for Mekane Yesus Seminary, Pastor of a congregation, Diaspora Ministry Coordinator, Executive Manager of LeadStar University College, and a member of the teaching faculty at various theological schools.

Tilaye is also very active with various organizations that facilitate dialogue between Christians and Muslims and encouraging Christians to share their faith with Muslims.

Tilaye contends that "every church exits for mission as fire exists for burning." The book of Acts contains a picture of the early Church engaging in missions as integral part of the definition of the Church. Tilaye will be sharing two keynote presentations to help us focus on fulfilling our mission mandates as empowered witnesses of the Gospel.


Caleb Bahr

Kari Malinak
YOUTH GATHERING AND LOCK-IN
Make plans for your Middle and High School students to attend this year's Youth Gathering July 28-29, 2023 in New Braunfels!
We are excited to announce our fifth annual YOUTH GATHERING for ALL STUDENTS grades 6-12! Students will grow in their faith through learning from inspiring presenters and doing ministry with others their own age from across the state! Along the way, they'll meet lots of new friends, have fun, eat some great food, and be encouraged to live faithfully in their everyday lives.
Coinciding with the Annual Gathering, the Youth Gathering has its own schedule including a lock-in. Cost is just $40 and includes snacks, dinner on Friday evening, breakfast on Saturday, lunch on Saturday, and a t-shirt. Transportation and lodging will be the responsibility of each church and/or family. Please spread the word about this awesome opportunity for your students!
PRE-GATHERING SEMINAR
The Pre-Gathering Seminar featuring Tilaye Daba will take place from 1:00 to 4:30 pm on Friday.
In this optional educational seminar, our keynote presenter will engage participants in a more thorough look into our theme and help us to wrestle with how we practically live that out in our congregations and daily ministry.

Mission is not a feeling, rather mission is born in the heart of God. Mission is the central theme of the Bible beginning in Genesis and continuing through Revelation. If you take mission of the Bible, only it's cover remains!

In Acts 1:8, Jesus empowers his people to be His witnesses and accomplish His Kingdom plans through the gift the Holy Spirit. This mission mandate to witness from Jerusalem to the ends of the earth continues on for disciples of every generation. We are SENT to accomplish the task of the Great Commission as God's missionary people and to multiply spiritually vibrant communities of faith. In this seminar we will "think outside the box" and rethink what it looks like to be God's missionary people and have a strategic vision for mission today.

All are welcome and encouraged to attend the Pre-Gathering Seminar. Please make sure you add the "Pre-Gathering Seminar" option onto your ticket when you register. Cost is just $20!
OPTIONAL FRIDAY NIGHT
ROAST BEEF BENEFIT DINNER
St. Paul, New Braunfels will be preparing a delicious benefit dinner on Friday night. Menu includes roast beef, potatoes, gravy, green beans, roll, peaches, and cake. Dinner will be served from 5:00 – 6:00 pm. Advance tickets may be purchased with registration for just $15. For late registrants, dinner tickets will cost $20. Proceeds from the Roast Beef Dinner will go to benefit St. Paul's children's ministry program.
BREAKOUTS
15 BREAKOUTS TO CHOOSE FROM
EACH OFFERED DURING 2 SESSIONS
CHOOSE 3 TO ATTEND!
one
Walking Together
Tilaye Daba
Mekane Yesus
Addis Ababa, Ethiopia
Interested in hearing more about the Global Mission work of the Ethiopian Evangelical Church Mekane Yesus? Join Tilaye Daba to learn more about how you and your church can partner in their work and be encouraged by the story of God's blessing of remarkable growth that has followed their commitment to mission and evangelism. Offered Sessions 1 & 2.
two
Sent To Whom?
Paul Owens
St. Paul
New Braunfels, TX
The first people to whom Jesus sends you is your family; and from there to the rest of your neighbors. So… it might help to ask: How well do you know the state of marriage and the family in the US? What do you know about divorce and marriage success rates? What do you know about first births in America today? What does our Lord say about the first estate, the family? And how can you and your congregation help? This breakout session will address these questions, dispel a common misconception, and give participants some clear ways to help families follow Jesus as Lord and Savior. Offered Sessions 1 & 2.
three
6 Questions Healthy Teams Ask
Eric Hulstrand
Moving Forward
Eden Prairie, MN
Church leadership can be tricky business. Serving on a church council or committee or working on a church staff can feel sometimes like tiptoeing through a minefield! There are 6 questions that healthy teams ask of themselves and of each other to help them more safely navigate through tough terrain. Do you know what they are? Join church consultant Eric Hulstrand as he shares some basic tools that anyone can use to help their team stick together as they move forward in the direction God is calling. Offered Sessions 1 & 2.
four
Reaching Young Families in Your Community
Andrew Cave
Faith Lutheran
Seguin, TX
Many churches seem to struggle to reach and engage young adults in their 20s and 30s and their families. Faith Lutheran in Seguin was no exception. Thankfully God gave a fresh vision for ministry and outreach to young families that has helped to transform the church! Join Andrew Cave as he shares the practical steps Faith took to connect with and care for this demographic that has led to congregational revitalization and new growth across the generations. Offered Sessions 1 & 2.
five
Fellowship of Christian Peace Officers
David Carroll
New Hope
McDade, TX
Law enforcement officers today face an incredible burden of stress that has led to alarming rates of divorce, domestic violence, substance abuse, and suicide. In fact, more officers die from suicide than in the line-of-duty. Fellowship of Christian Peace Officers offers bible studies, fellowship, and resources to help officers stand firm and live out their faith both on and off duty. While there are over 200 FCPO Chapters throughout the US, New Hope FCPO in McDade is the first chapter in Central Texas. Come and learn how you and your church can create a ministry of outreach and support in your community for the men and women in blue. Offered Sessions 1 & 2.
six
How to Grow Your Church
Bryce Formwalt
LCMC Texas |
Harvest Workers
Georgetown, TX
Has your church become stagnate? Are you struggling to connect to younger generations? Do you sense a growing disconnect between the people inside the church from the people in your community? Join Director of Mission Growth Bryce Formwalt as he shares some simple principles of ministry that can help your church rediscover its mission in your local community which will lead to new life and growth. Offered Sessions 1 & 3.
seven
Humanitarian Missions Create Gospel Impact
Mark Doss
GoServ Global
Eagle Grove, IA
Disaster relief, homes that survive earthquakes and hurricanes, schools and orphanages, and supporting both pastors and churches internationally… these are some of the ministries that GoServ Global is accomplishing right here in the U.S. and in the third world. We believe offering hope through humanitarian efforts gives us an opportunity to share the good news of Jesus Christ. This session will introduce you to GoServ Global and learn about short-term mission opportunities to experience world missions first-hand and to be challenged by God's Spirit to become a world changer in the name of Jesus. Offered Sessions 1 & 3.
eight
Surviving and Thriving During a Pastoral Transition
Ryan Hagan
Intentional Interim Pastor, LCMC
Smithville, TX
Whether a pastor resigns, retires, or dies, all congregations will eventually experience a pastoral transition. So what can we do to help our church not only survive, but thrive through transition? How long will it take before we get a new pastor? How do we discover what gifts we need in our next pastor? How and when do we form a call committee? What issues do we need to work on to make sure the next pastor is set-up for success? Join Ray Hagan as he shares from his years of experience of working as an Intentional Interim Pastor in various congregations and contexts. Offered Sessions 1 & 3.
nine
The Carpenter's Tools
Aaron Goeke
Quihi Bethlehem
Quihi, TX
There are a lot of lost souls out there. As Christians, we know we are called to be witnesses to those who are lost, but the proposition is a scary one. What if we do it wrong? What if I am just not good at it? Well good news: it doesn't depend on you; you're just the tool in the hand of the master. Join Aaron Goeke as he walks us through a typical carpentry shop and explains how The Master uses each of the different tools to create His masterpiece. Based on Ephesians 2:10, learn what it means that your good deeds are prepared in advance that you might mosey in them. Offered Sessions 1 & 3.
ten
Global Mission Partnerships to Reach the Unreached!
Bill Moberly
Awakening Lives to World Mission
Jesus called his church to make disciples locally and globally, investing time, vision and finances in both spheres! How can you and your church connect with seasoned agencies, as well as fruitful indigenous leaders and missionaries, in order to make disciples among the unreached? ALWM Director Bill Moberly will share key principles, as well as introduce ALWM partnership opportunities in Belarus, Bangladesh, Cambodia, Myanmar, Vietnam and more! Offered Sessions 1 & 3.
eleven
Rejected by Men: Why Good People Still Reject the Real Jesus
Luke Allison
St. Paul
Bulverde, TX
When Jesus stepped on the scene to begin his ministry, He encountered the Pharisees, the Sadducees, the Essenes, the Zealots, and the Herodians. Each of these sects had strong beliefs about God, sin, and the kingdom. All of them had hopes inspired by God's action in history and belief in His eternal covenant. All of them ultimately rejected Jesus. But why? Join Luke Allison as he takes a closer look at the reasons why true believers rejected Jesus in the 1st century, and how our churches can shed sectarian reactions today and embrace Him for who He is. Offered Sessions 2 & 3.
twelve
Get Unstuck! Embracing Your God-Created Future
Deborah Prieto
Reimagine Your Church
Torrace, CA
If you want to know what your church will look like a year from now if you don't make a decision to do something different, you don't have to guess. You already know, just take a look around! Step out of your congregation's default future and into your God-created future. We will focus on 3 key steps to generate momentum in moving forward. This workshop is for the dreamers, the doers and the transformers who want to experiment, be inspired, be challenged and walk at the fringe of fear and adventure! If your heart is pounding, this one is for you! Your God-adventure is waiting! Offered Sessions 2 & 3.
thirteen
Shining Christ's Light: Exploring Christ's call to be salt and light
Darrin Trammell
Trinity
Hempstead, TX
Jesus describes his followers as the "salt of the earth" and the "light of the world." From a Lutheran perspective, we will examine what it means to be salt and light in today's world, and how we can effectively live out our calling to be ambassadors for Christ. We will explore how our good works can point others to Christ, and discuss practical ways to let our light shine in our daily lives. Join Darrin Trammell for an engaging conversation on how we can effectively live out our faith and be a positive influence in the world around us. Offered Sessions 2 & 3.
fourteen
Make a Dent Where You are Sent
Doris Engelhardt
Faith Lutheran
Seguin, TX
God has put us in a specific place for a specific purpose. How can we know what that purpose is? Romans 12:6 tells us "We have different gifts, according to the grace given to each of us." Do you know what your gifts are and how you can use those gifts in service to God? If not, now is the time to discover your gifts! Come take a "Spiritual Gifts" Survey to discover your God-given gifts and how you can use them to make a dent where you are sent! Offered Sessions 2 & 3.
fifteen
Global Family of Christ
David Breidenbach
Spiritual Orphans Network – SON
Albuquerque, NM
In concept, Christians understand we are all a part of the Body of Christ, but what does that look like in the global context of life and ministry? Whether you serve a small congregation, para-church ministry, or multi-site mega church we are all in this, together! Come and learn how you can connect with your Christ family abroad to help strengthen your ministry at home in partnership with Spiritual Orphans Network. Offered Sessions 2 & 3.
sixteen
Prayer Time
During each of the breakout sessions, there will be a Prayer Room option. The Prayer Ministry Room is available for any who would like to pause and pray and will be staffed by pastors or other prayer ministers who will be ready to pray with you. "Then you will call upon me and come and pray to me, and I will hear you." (Jeremiah 29:12) Offered Sessions 1, 2 & 3.
ATTENTION MINISTRY PARTNERS:
Ministries, Missions, Businesses, and any other organizations who partner with churches are encouraged to attend and be represented with a display at the Annual Gathering. Ministry Partners can register for a display table at no additional cost through our online registration form. Questions? email
info@lcmctexas.org
or call 512-942-7776.
SPONSORSHIP OPPORTUNITY:
We are looking for businesses or organizations that are interested in sponsoring our Gathering! Your support helps to put on a great event at an affordable cost. There are three levels of support to choose from. We thank our sponsors by providing options for full-color advertising space in our printed and digital programs, advertising slide circulating on presentation screens, and exposure as a thank you for your generous support.
Premier Sponsor ($500)
• Full-page color ad in printed program (5 x 7.75 inches)
• Ad in online digital program
• Circulating ad on presentation displays
• Public acknowledgement at the Gathering
• Designated sponsor of a specific part of the Gathering
Full-Page Sponsor ($100)
• Full-page color ad in printed program (5 x 7.75 inches)
• Acknowledgement in online digital program
Half-Page Sponsor ($50)
• Full-page color ad in printed program (5 x 3.75 inches)
• Acknowledgement in online digital program
A NOTE ABOUT LODGING
Lodging is in high demand at the time of the Annual Gathering!
There are no reserved blocks of rooms at any local hotels in New Braunfels during the Gathering. We encourage you to consider booking lodging as early as possible since it is in high demand. Registrants are encouraged to consider options is nearby communities such as Schertz and San Marcos and may want to utilize 3rd party websites such as
hotwire.com
,
priceline.com
,
hotels.com
, or
expedia.com
to compare your lodging options. Booking a vacation rental home, condo, or apartment through
airbnb.com
or
vrbo.com
might offer more affordable local options, especially for any groups traveling together.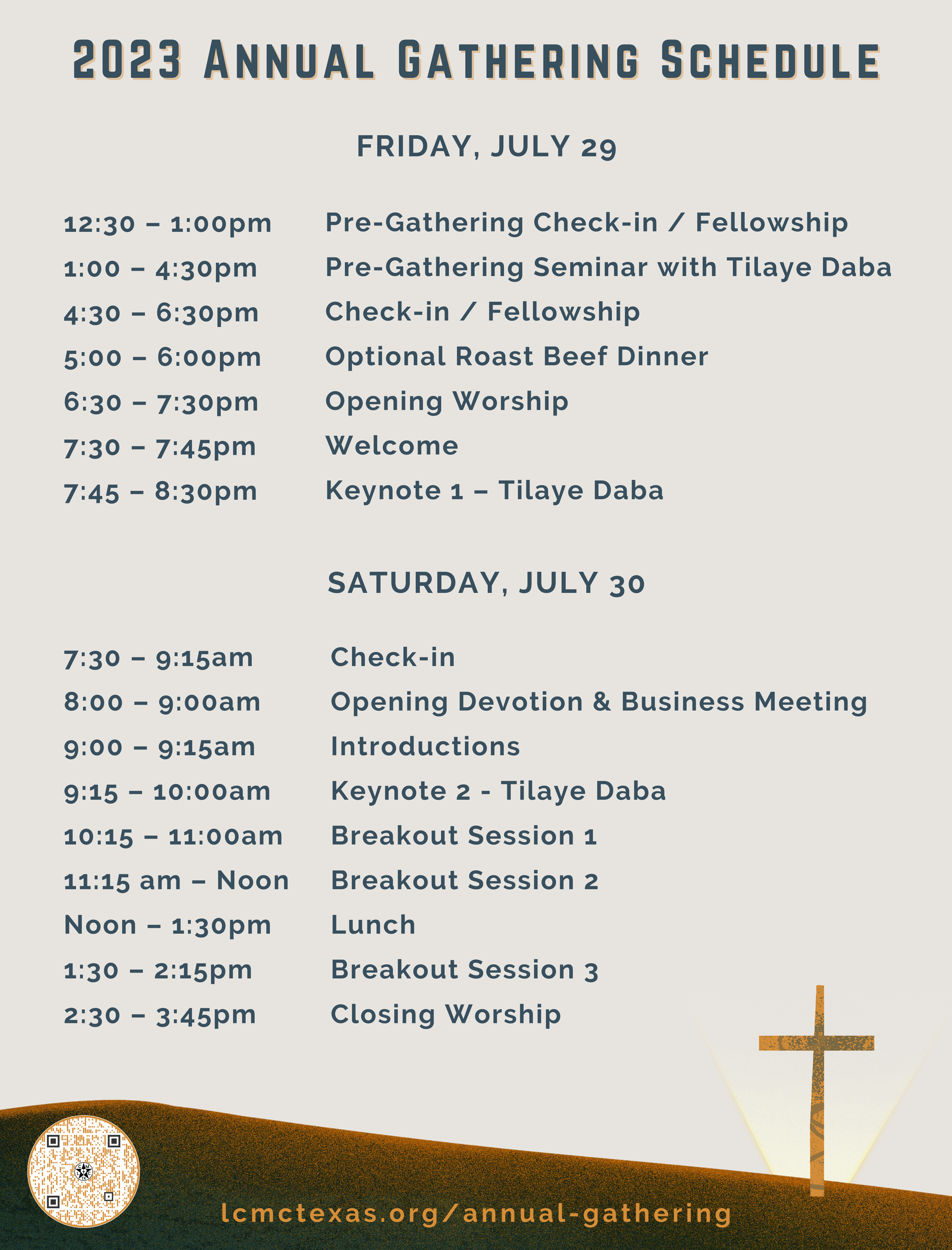 Contact Bryce Formwalt at 512.942.7776.
Youth Gathering and Lock-in
Students from all across Texas come together for a fun, faith-filled weekend, which happens to coinside with the Texas District Annual Gathering!
2023 YOUTH GATHERING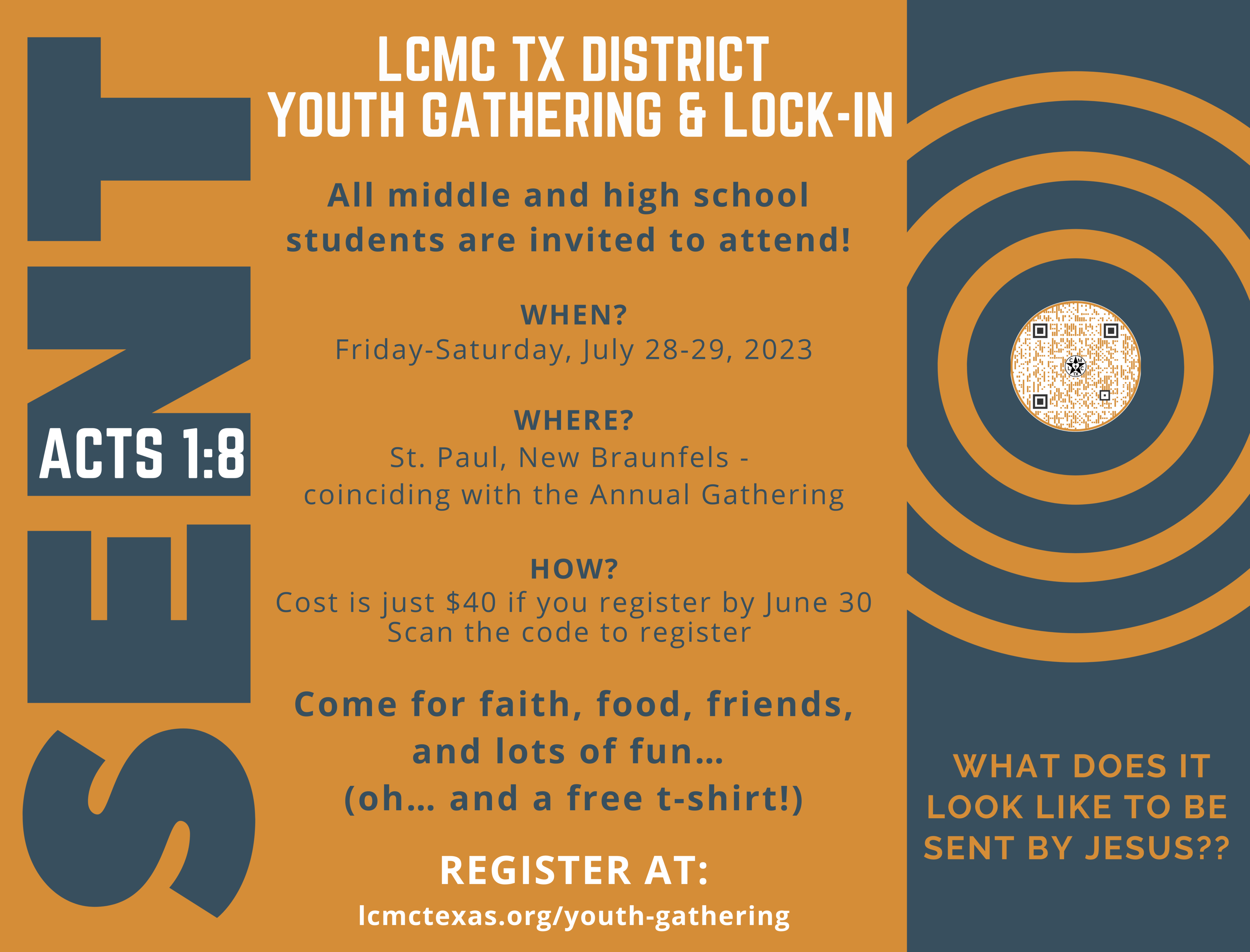 Contact Bryce Formwalt at 512.942.7776.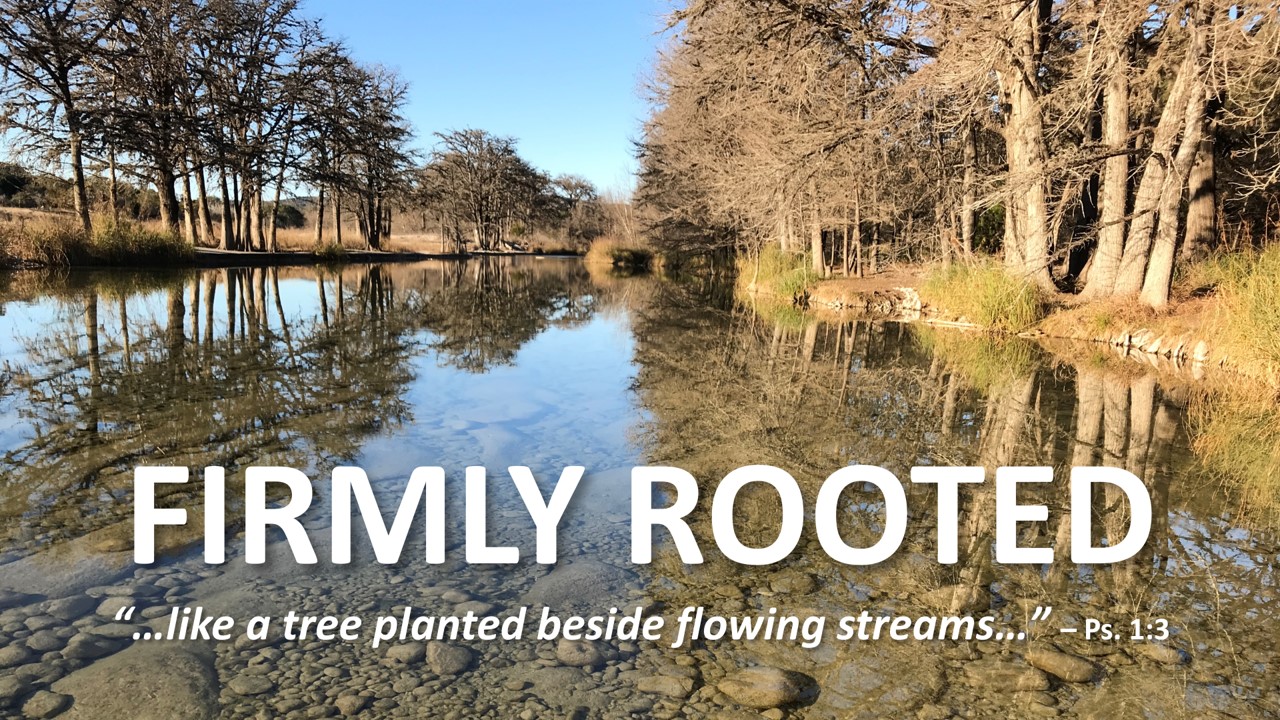 2023 WINTER RETREAT
in Concan, TX was a hit!
Pastors, seminarians, ministry staff, congregational leaders and spouses. The retreat is an opportunity for ministry leaders and spouses to get away and be enriched through a time of fellowship, worship, prayer, education, and recreation.
Traditionally, our Winter Retreat offers two parallel tracks. Participants may choose the Leadership Track or the Relationship Track. Everyone on both tracks will share together in common worship and fellowship times.
Stay tuned for details on our 2024 Winter Retreat
Our Winter Retreat is held in Concan, Texas, a beautiful resort community located along the Frio River. The
Dream Catcher, Barefoot
and
Rain Dancer
cabins serve as our retreat home. Each is designed to host large family gatherings in various sleeping accommodations. We do our best to accommodate married couples in private rooms with queen bedrooms, but we may not be able to do so depending on the total number of registrants.
Stay tuned for more info!
Contact Bryce Formwalt at 512.942.7776.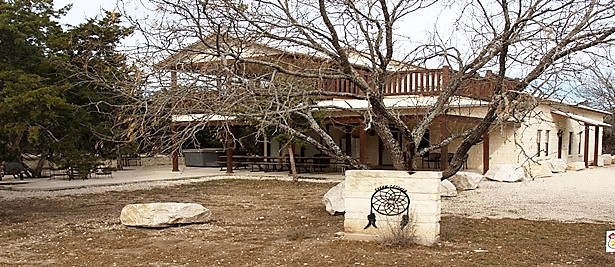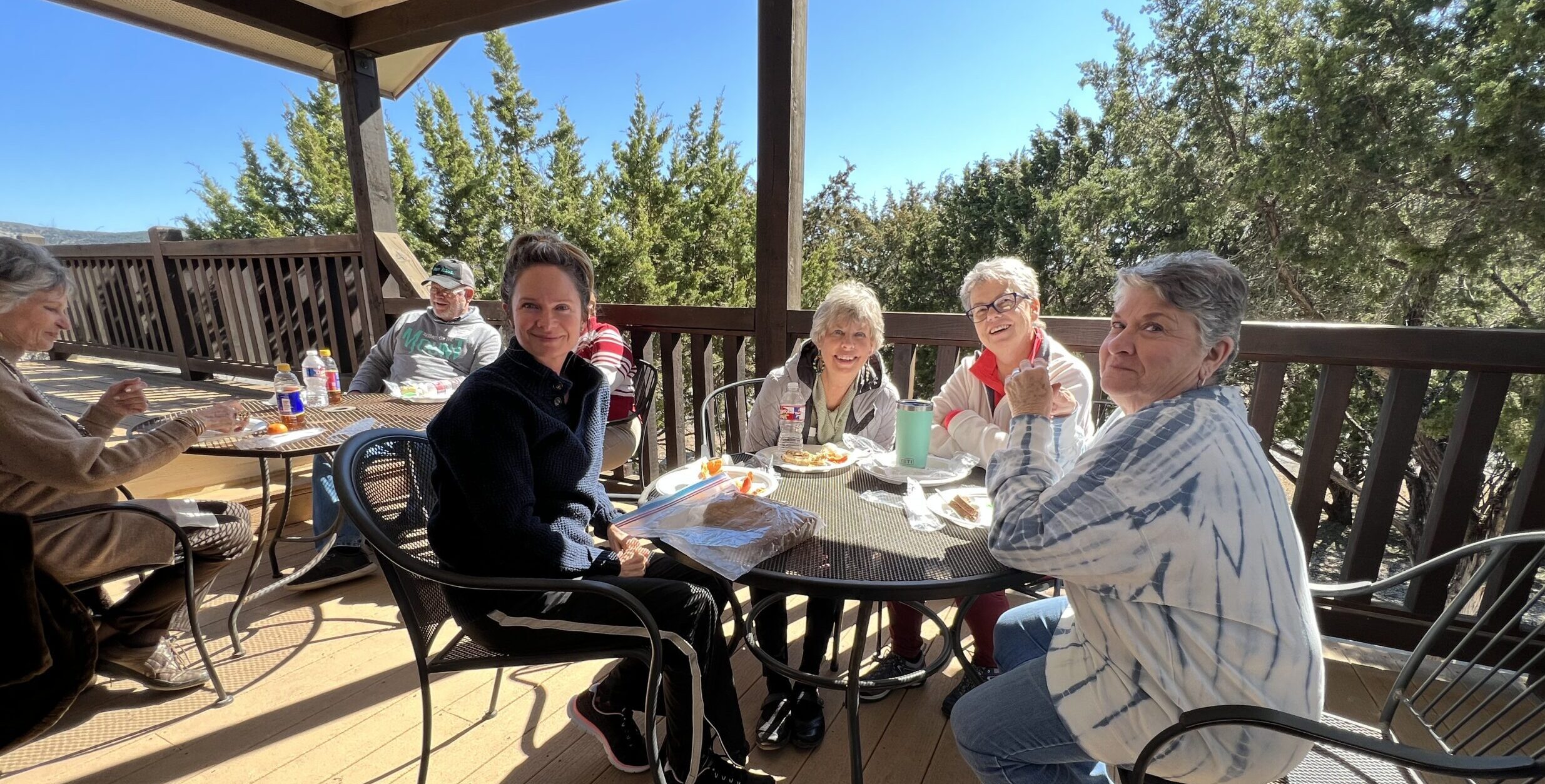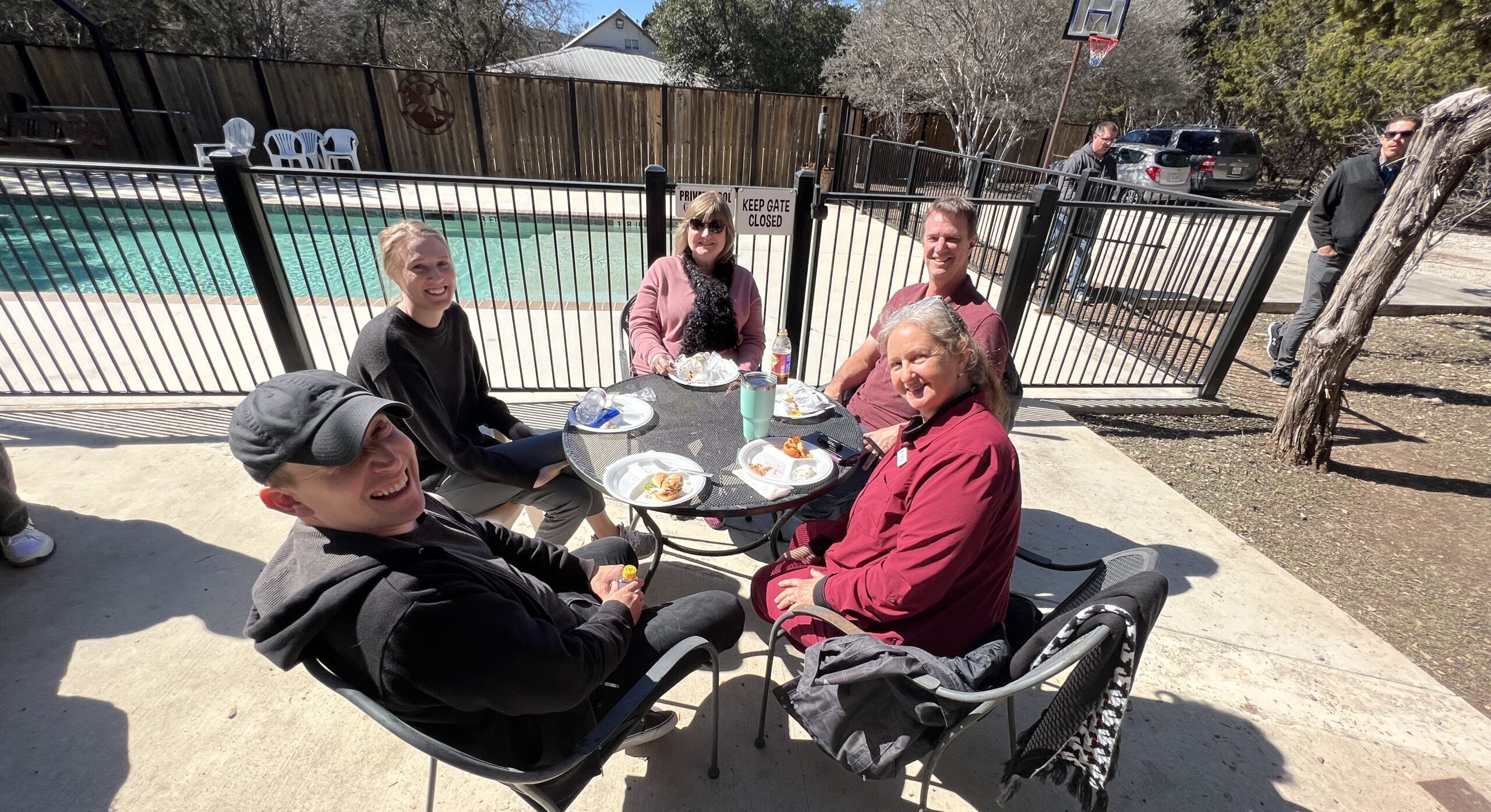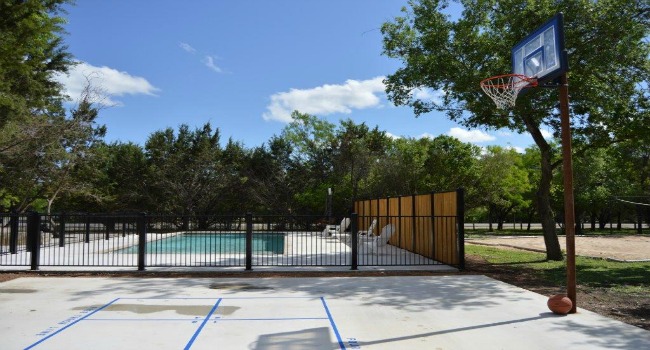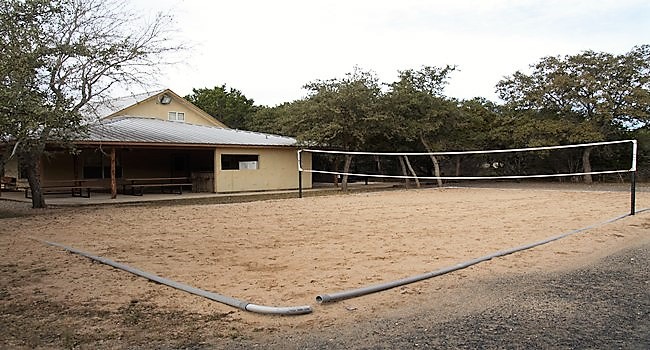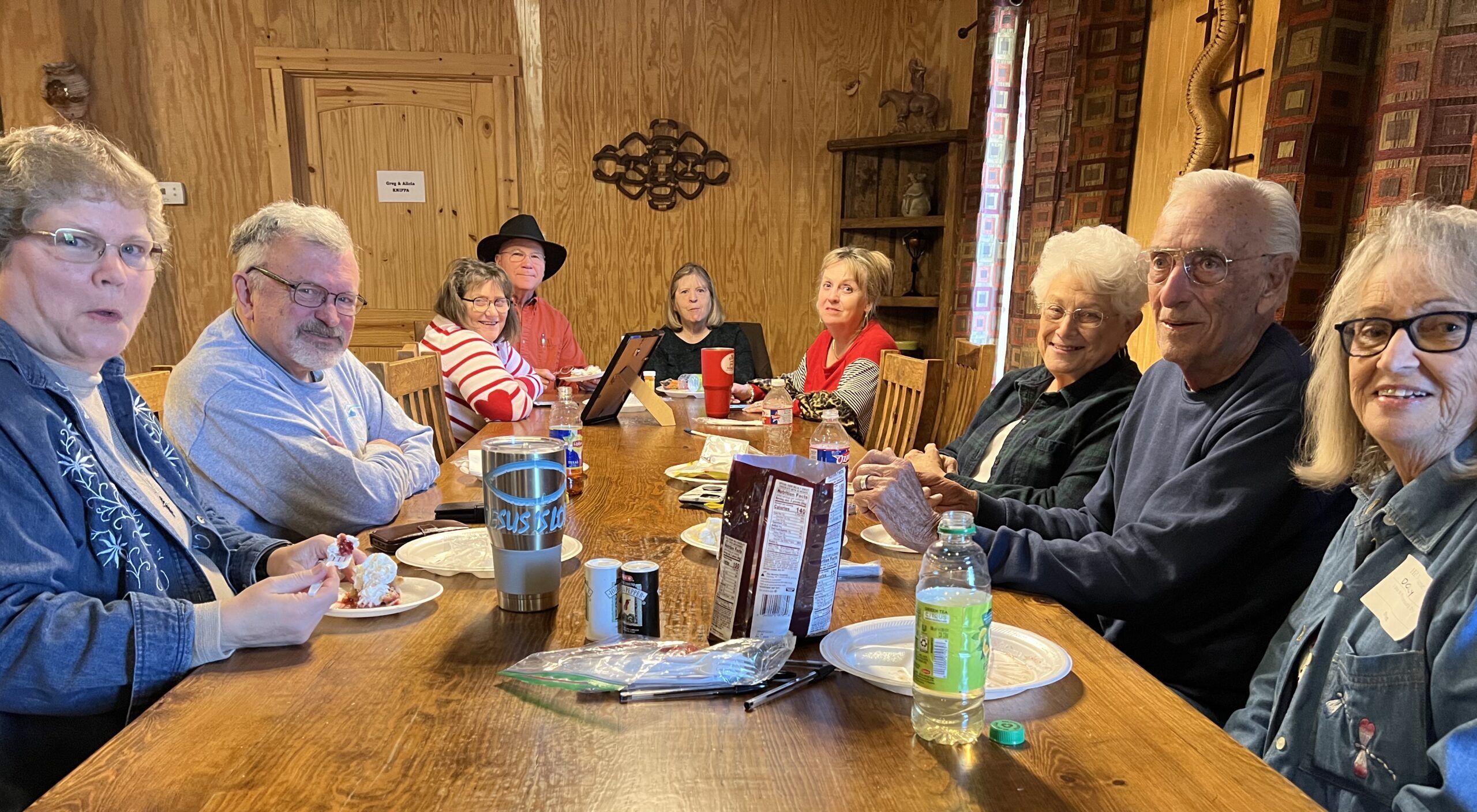 Local Clergy Conferences
Texas is big.
We live in the internet-age, where distance is no longer an obstacle to communication. Even so, our pastors frequently get together the old fashioned way: in person. With a Bible in one hand and a mug of coffee in the other, they engage in deep theology and casual chit-chat, and everyone goes home better for the exchange.